COVID-19 IMPORTANT UPDATE
From Monster Clean
As you may know, we are a family run business that has been servicing the Virginia Beach and surrounding areas for over 30+ years. Being in the residential and commercial cleaning industry, it has become more important than ever for our company to understand how to continue to provide HEALTHY homes and workplaces for our customers. We know that proper cleaning and sanitizing of the surfaces in your home and business will greatly help to prevent the spread of harmful germs, virus organisms and bacteria.
During these uncertain times, we understand that many of our Customers have questions about our services and the steps we are taking to ensure their safety and that of our employees. Our teams are actively monitoring communications from the CDC, the World Health Organization ("WHO"), and federal agencies to ensure we are operating consistent with the latest guidance to contain the spread of SARS-CoV-2, the cause of COVID-19.
You Can Have Confidence in our professional team of Healthy Home Experts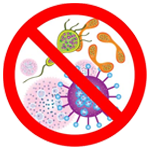 As a matter of routine protocols, we complete a daily comprehensive cleaning of all of our cleaning equipment. Because its the flu season and because of the heightened risk with Coronavirus – we at Monster Clean are taking extra precautions to protect your house and your family, as the trusted Healthy Home Authority. Here are some of the steps our technicians are taking;
Using a fresh set of disposable gloves and shoe covers and masks on every job
Regularly washing hands and using high alcohol content hand sanitizers between every appointment,
Applying our hospital-grade sanitizer to all of our equipment between EACH home visit.
You can be assured that our team members are taking all of the recommended precautions to provide Safe Service Delivery and so we can continue to deliver our healthy cleaning services to your home and workplace.
Our RISK-FREE Guarantees For You
Merely sweeping and mopping your floors is insufficient for achieving a thorough clean. To truly restore the cleanliness of your floors, a deeper extraction of dirt is necessary. Without this extraction, you are merely addressing the surface layer while neglecting the crevices and cracks within your floor's surface. Consequently, if you limit your cleaning routine to sweeping and mopping alone, there is a significant likelihood that dirt, debris, and allergens are still residing within the hidden recesses of your floors.
For more than 17 years, Monster Clean has proudly provided Hampton Roads with exceptional service, an outstanding team of professionals, and unbeatable prices.
We'll save you both TIME and MONEY because our process, equipment and procedures will keep your carpets cleaner longer!
Your 100% Satisfaction is our GUARANTEE!
Peace of mind - No harmful chemicals! Safe for your kids and pets
Fewer allergies and illness - Less sick days for you and your family