5 Star
Carpet Cleaning Services
in Virginia Beach, Chesapeake, VA, Norfolk, VA, Suffolk, VA and Area
Residential Carpet Cleaning Virginia Beach
At Monster Clean, we combine the best equipment, the best prices, and the greatest employees to provide an elite level of service and quality to our customers. Regardless of the condition of your carpet, our team of certified carpet cleaning Virginia Beach experts will be able to revive your carpet to like new condition, saving you time and money.  From pet odors to stains, we will effectively remove imperfections and provide a clean environment for your family.

Virginia Beach Carpet Cleaning
Monster Clean is certified by the IICRC and is dedicated to educating our customers on various cleaning techniques; taking pride in selecting the best treatment available for your specific cleaning need. Most carpet manufacturers recommend the "truck-mounted hot water extraction" method of cleaning over all other methods.
Truck-mounted cleaning is faster than portable equipment, the extra heat will remove more stains and spots, and the added vacuum suction power will reduce drying times. Effective carpet cleaning Virginia Beach requires the use our truck mounted systems.
Our massive truck mounted carpet cleaning equipment is the largest and most powerful at work anywhere in the state of Virginia. Monster Clean has a proven system that ensures maximum cleaning results every time.
Our Carpet Cleaning Process
The Monster Clean Experience:
1. Pre-Inspection: MonsterClean will walk with you throughout your home to inspect the carpet. Possible permanent stains will be noted, and you will be provided with an evaluation of expected results.
2. Pre-Vacuum: This is one of the most important steps in the cleaning process. (customer is expected to vacuum beforehand)
3. Monster Pre-Conditioning/ Pre-Spot: A pre-spray treatment is applied to traffic areas and general spots for a more thorough cleaning. The proper detergents, in the proper order, concentration and amount will be selected. A choice solution will also be applied to trouble spots to increase removal results.
4. Pre-Grooming: A state of the art carpet groomer is utilized to further break up the soil. Agitation distributes detergents, working to loosen the grime.
5. Monster Soil Extraction and Rinse/ Neutralizer: The carpet is thoroughly rinsed with the use of hot water and a strong extraction system, flushing out all soil and detergents, leaving the carpet free from excessive wetness and sticky residue. Neutralizer is applied to also ensure that sticky residue does not remain, leaving your carpet and soft.
6. Monster Post-Spot/ Groom: Any remaining spots will receive extra treatment with our professional spotting solutions. Carpet fibers may benefit from a post carpet cleaning groom to ensure that there is no fiber distortion.
7. Monster Dry: A high velocity air circulation system is immediately put in place to promote faster and more thorough drying.
8. Post-Cleaning Inspection: Our Monster Clean technician will walk with you throughout your home to observe the cleaning results and to ensure that you are delighted with the work.
9. Our technician will answer any questions you may have about routine carpet cleaning Virginia Beach maintenance and offer A Big Monster Clean Thank You.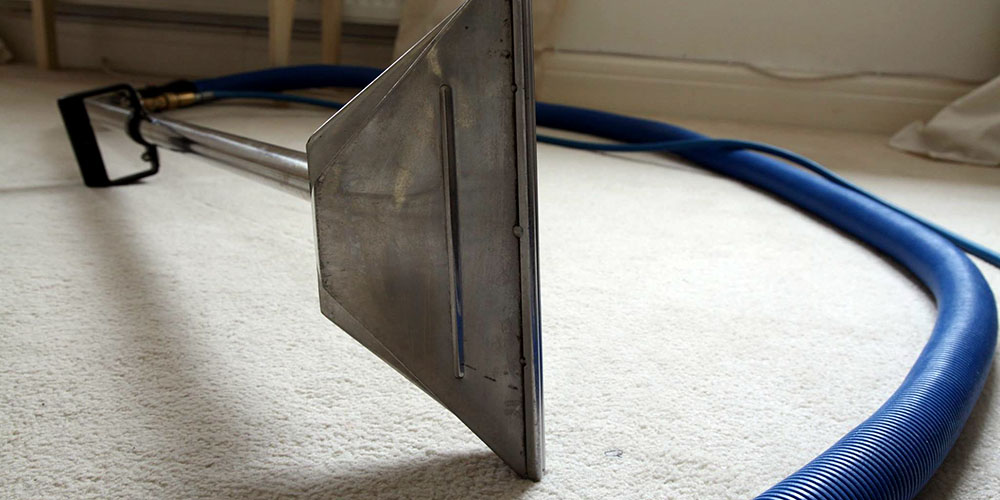 Monster Clean technicians are highly trained in exceptionally advanced stain and spot removal techniques. A stain is a discoloration caused by a chemical reaction or by the penetration of a discoloring material into the yarn's dye site. Spots are discolorations that have added color to your carpet and may require a color removal process for correction. A color loss stain (bleach, fading, etc.) may be addressed in some cases by a spot dye process or by replacing the affected area of carpet with a carpet patch. Even urine spots in carpets are removable.
You are guaranteed 30 minutes of advanced stain treatment as part of your service. We can assure you that Monster Clean will exhaust every tool and technique at our disposal to correct unsightly discolorations in your carpet as part of our service.
Monster Clean Carpet Cleaning uses only the best products for our customers. This is why we only use Teflon Advanced Carpet Protectant by Dupont for your carpeting. When protected with Teflon, your carpet and upholstery investment with be better protected by lasting much longer.
Teflon is suitable for most cotton, polyester, nylon, and fiber blends. We provide Teflon services for carpet, sofas, chairs, ottomans, draperies, mattresses & other upholstered furniture. Teflon protects against stains caused by drink spills, food contamination, pet soils and will aid in keeping your upholstery bacteria odor free. The solution works when an invisible shield is formed around each fabric fiber, thus repelling liquids and soil. Your fabrics will be easier to care for. For the best results, we recommend Teflon application after every carpet and or upholstery cleaning. DuPont™ Teflon® is people and pet safe, has no odor, and is long lasting.
Monster Clean offers In-Plant immersion cleaning of oriental rugs. Monster Clean is an IICRC (Institute of Inspection Cleaning and Restoration Certification)
CleanTrust certified
firm, and we employ IICRC Certified Textile Cleaners.  We only use techniques and cleaning solutions approved for use on your special rugs
.
We also offer expert
carpet cleaning Norfolk
,
Chesapeake
, and all of Hampton Roads.
Monster Clean Oriental Rug Process:
1. Pre-Inspection: We carefully inspect and start a photographic record of your Oriental Rug cleaning. Your Monster Clean expert will spend time discussing your rug and answer any questions you may have. Possible permanent stains will be noted, and you will be provided with an evaluation of expected results.
2. Monster Dry Soil Removal: Dry Soil is removed with our custom rug duster. It is a harmonic vibration/ deep massage machine that gently dislodges dirt and other particles from your rug's foundation. Both the front of the rug and the back of the rug are dusted in this way. The rug is also thoroughly vacuumed between several dustings. This is one of the most important steps in the cleaning process.
3. Dye Stability Testing: The colors in hand-knotted or hand-woven rugs must be tested to avoid the migration of dye to unwanted areas. We test every color in your rug individually to ensure color fastness prior to the selection of a cleaning process.
4. Process Selection: While most rugs can be cleaned using our full immersion process, some rugs are well suited only for "low moisture" or "dry cleaning" techniques. We will select the method most likely to result in the optimum level of cleanliness for your rug, while preserving the color, shape, and strength of your fine rugs.
5. Monster Full Immersion carpet cleaning Virginia Beach: When it has been determined that the Oriental Rug dyes are stable, your rug will be washed using our full immersion process.
6. Speed Drying: Your rug will be dried by either being lifting into our drying tower or by lying flat on our blocking and drying racks. The best drying method will be selected for your rug.
7. Rug Finishing: Finishing involves pile and fringe grooming, fringe color correction (if necessary), and other final detail work.
Carpet Pet Odor Remediation
Pet urine odor generally requires deep remediation work. Pet odor is often much deeper than it may appear to be. It is highly probable that carpet padding and sub-floor contamination has occurred, thus causing the odors. While your carpet padding and the floor underneath may be contaminated, remediation can usually be accomplished without having to lift the carpet. The Monster Clean team are experts in the process of remediation. We pride ourselves on being able to remove odors when other companies cannot. Understanding the problem and limitations of each available solution is critical in making an informed decision regarding which remediation technique will be permanent and most effective. Urine crystals, or salts, dry into the carpet pad and on your sub-floor. These crystals are not easily re-liquefied by water or detergent alone, but they do dissolve readily in mildly acidic conditions.
How is Monster Clean's pet odor remediation so effective? Scientifically, we take advantage of our ability to dissolve urine salts and bacterial growth in acid by flushing a liberal amount of solution through your carpet and pad in the first step of remediation. Once the carpet, pad, and sub-floor have been acid flushed, live non-pathogenic bacteria and enzymes are introduced via planned and closely controlled localized "flooding." The urine crystals are extracted in two stages. During the first stage, emulsification and removal of urine not liquefied by the acid rinse is accomplished. In the second stage, the area is saturated with a complex solution that "eats away" at any remaining urine residue. Once the two-stage flooding and extracting procedure has been accomplished, your carpet will be cleaned with our standard carpet cleaning Virginia Beach processes.
Our RISK-FREE Guarantees For You
Merely sweeping and mopping your floors is insufficient for achieving a thorough clean. To truly restore the cleanliness of your floors, a deeper extraction of dirt is necessary. Without this extraction, you are merely addressing the surface layer while neglecting the crevices and cracks within your floor's surface. Consequently, if you limit your cleaning routine to sweeping and mopping alone, there is a significant likelihood that dirt, debris, and allergens are still residing within the hidden recesses of your floors.
For more than 17 years, Monster Clean has proudly provided Hampton Roads with exceptional service, an outstanding team of professionals, and unbeatable prices.
We'll save you both TIME and MONEY because our process, equipment and procedures will keep your carpets cleaner longer!
Your 100% Satisfaction is our GUARANTEE!
Peace of mind - No harmful chemicals! Safe for your kids and pets
Fewer allergies and illness - Less sick days for you and your family