Efficient
Carpet Cleaning
in Isle of Wight, VA
Residential Carpet Cleaning Isle of Wight
We've made a name for ourselves at Monster Clean. We're the best in the carpet and upholstery cleaning business, and we don't take that honor lightly. We employ the best carpet cleaning professionals in the business; we have the best equipment; and our prices are unbeatable.
No matter how much dirt, pet soil and general waste are in your carpet, we guarantee that our certified experts at carpet cleaning Isle of Wight will restore it to its brand new condition. We take pride in providing your family a clean environment to live in. And regardless of how big the job is, we promise to save you time and money.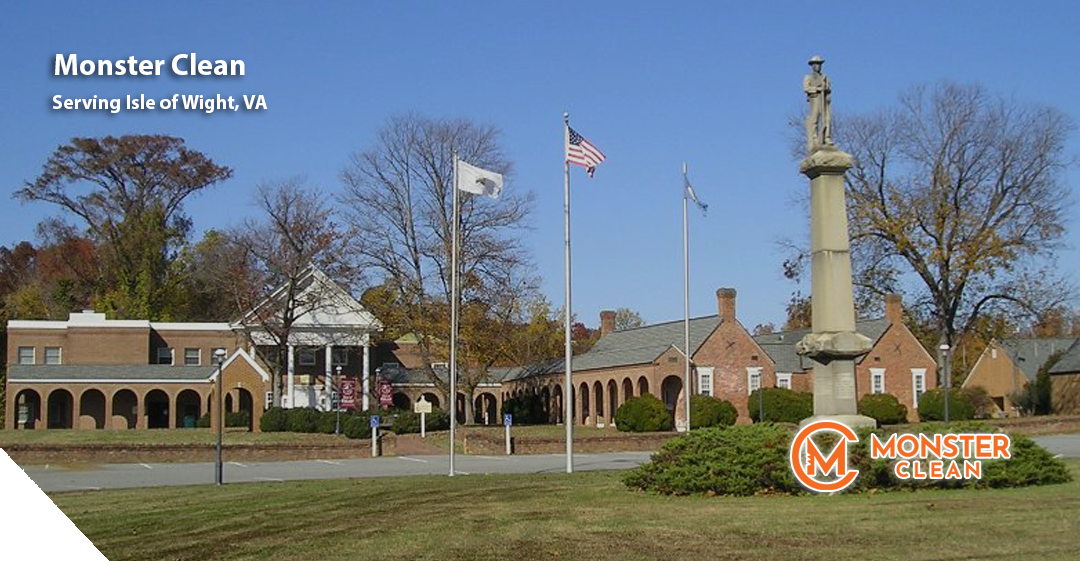 To earn the prestigious, best-in-the-business spot, Monster Clean is IICRC certified. We take education seriously. Not only do we take the time to educate our customers on the cleaning techniques we'll be using, we also make sure we stay up to date on all of the most effective, up to date carpet cleaning methods used in the industry.
For example, the industry cleaning standard recommended by carpet manufacturers is known as "truck-mounted hot water extraction". Monster Clean uses this method because it's not only highly efficient, it's also faster and more effective than the cleaning achieved with portable equipment. "Truck-mounted hot water extraction" uses high heat to zap the spots and stains, and a high powered vacuum exponentially shortens your carpet's drying time.
Monster Clean's truck mounted system is the biggest and best in the Isle of Wight.
Our Carpet Cleaning Process
The Nine-Step Monster Clean Experience
1. Pre-Inspection: The first thing your Monster Clean technician will do is walk through your home to check out your carpet. We'll take note of any permanent stains and give you our realistic evaluation of the cleaning results you can expect to see.
2. Pre-Vacuum: This is one of the most important steps in the cleaning process. (customer is expected to vacuum beforehand)
3. Monster Pre-Conditioning/Pre-Spot: High-traffic areas and other dirty spots are identified and given a pre-spray treatment. Then we select the correct detergents for your particular carpet. We make sure that they're used in the proper order and with the proper concentrations and amounts. Any tough spots will get extra treatment with specialized products.
4. Pre-Grooming: We have a state of the art carpet groomer that works by using agitation to evenly distribute detergent and break up grime and soil.
5. Monster Soil Extraction and Rinse/Neutralizer: We want to make sure that your carpet is completely flushed of any remaining detergent or soil. To do this, we use a very strong extraction system that rinses your carpet with hot water. An added benefit of this extraction system is that your carpet is left free of excess water and sticky residue. Because sticky residue can be pretty stubborn, we like to apply a neutralizer that guarantees your carpet is left soft and smooth.
6. Monster Post-Spot/Groom: Sometimes the tougher, dirtier spots in your carpet might need a little extra work. We apply a professional anti-spotting solution and then, to make sure the carpet fibers aren't distorted, we'll do a post carpet cleaning groom.
7. Monster Dry: It's extremely important to get your carpet completely dried as quickly as possible. Monster Clean uses a high velocity air circulation system to ensure the best drying results.
8. Post-Cleaning Inspection: Customer satisfaction is extremely important to us. After your carpet is clean and dry, your Monster Clean technician will walk with you through your house to show you the impressive results.
9. Once your carpet is clean, we know you'll be eager to keep it looking beautiful. We answer any questions you might have about ongoing maintenance and routine carpet cleaning, and then we'll give you a big, Monster Clean thank you!
Since carpet is made of yarn and other porous fibers, it's subject to stains, color loss stains, or spots. These are actually different processes.
A stain occurs as a result of a chemical reaction, or when the yarn is penetrated by anything that discolors the yarn's dye site.
A color loss stain is what happens when the carpet comes in contact with bleach or has been faded by the sun. We can fix these by using a spot dye process or by actually cutting out the affected area and replacing it with a carpet patch of the correct color.
A spot is anything that adds color to the carpet and will likely need to be removed using a specific color removal process.
Pet urine can also be a perpetrator of exceptionally tough-to-clean spots and stains, but at Monster Clean, we're even experts in urine removal.
As part of your carpet cleaning service, Monster Clean provides thirty minutes of advanced stain treatment. We won't quit cleaning until even the toughest, deepest, grossest stains are gone. We will use any tool in our arsenal to get rid of these unsightly problems.
Hiring Monster Clean for your carpet cleaning job means your carpet will be getting the most advanced treatments and products around. Teflon Advanced Carpet Protectant by Dupont is the best protective, stain repellant product on the market. Teflon works by surrounding and coating each fabric fiber, providing protection against all manner of food contamination, pet soils, spilled drinks, etc.
Teflon also helps to prevent any unpleasant odors caused by bacteria in your carpet or upholstery. It's safe for use on cotton, nylon, polyester, and other fiber blends. An added benefit of DuPont Teflon is that it's odor-free, long lasting, and safe for use around the whole family and also pets. Monster Clean recommends that your carpet and upholstery receive a Teflon application after every cleaning.
Monster Clean's promise of quality is backed up by being a Clean Trust certified firm by the IICRC (Institute of Inspection Cleaning and Restoration Certification). Our employees are IICRC Certified Textile Cleaners.
We know how valuable our customers' oriental rugs are, and we know how vital it is to use only the proper techniques and products on them. To ensure their correct care and cleaning, we offer In-Plant Immersion cleaning for your oriental rugs. This way we can closely monitor the entire cleaning process.
Monster Clean Oriental Rug Process:
1. Pre-Inspection: First, we carefully inspect your Oriental rug. As part of that inspection, we take pictures so that there's a photographic record of the cleaning process from start to finish. Your Monster Clean expert will then talk with you about your rug. At this point, we'll take note of any permanent stains and will also give you an evaluation of the expected cleaning results. You can feel confident knowing that we'll answer any questions you might have about the process.
2. Monster Dry Soil Removal: Our first step is to use our custom rug duster to remove any dry soil. This machine uses a combination of harmonic vibrations and deep massage to gently dislodge particles and dirt from deep within your rug. We do this to both the front and back of the rug. Between each dusting, we carefully vacuum the rug; this ensures that none of the dislodged dirt gets ground back into the rug, and as such, is possibly the most important step of all in the cleaning of your Oriental rug.
3. Dye Stability Testing: Hand-knotted and hand-woven rugs are among the most beautiful out there. They're all uniquely patterned and dyed. Because of this, the dye isn't as stable as in mass-produced or man-made textiles, and sometimes the dye can bleed across to other sections of the rug. We test each different color in your rug prior to cleaning to ensure its colorfastness.
4. Process Selection: Oriental rugs are unique and beautiful. Many modern and man-made rugs, and some Oriental ones, can be cleaned using our full immersion technique. However, the dyes used in a lot of Oriental rugs are better suited for "low moisture" and/or "dry cleaning" techniques. After carefully inspecting your rug, we will then choose the cleaning method best suited to it. Our goal is to preserve the strength, shape, and color of your fine rug.
5. Monster Full Immersion carpet cleaning Suffolk: If we determine that the dyes in your Oriental rug are stable, we will use our full immersion style of cleaning as opposed to a low moisture or dry cleaning technique.
6. Speed Drying: At Monster Clean, we use two methods of drying rugs. One method is to lift the rug into our drying tower and allowing it to dry while suspended. The other method is to lie the rug flat on our blocking and drying racks. We will select the method best suited to your particular rug.
7. Rug Finishing: This is the final step. Finishing a rug means that the pile and fringe are groomed, fringe color corrections are made if needed, and any other fine details are attended to.
Carpet Pet Odor Remediation
Some of the worst things to deal with in your carpet are pet stains and odors. The odor from urine is especially hard to remove because of how deeply it penetrates into the carpet, padding, and sub-floor. After the urine has soaked through the layers, it dries and forms into crystals, or salts. These crystals are extremely hard to remove from the carpet. Needless to say, this kind of job is often best left to the pros.
Our team at Monster Clean has the professional know-how you need for this tough job. We're so good at pet odor remediation because we're not only carpet cleaning experts, we understand the science behind each cleaning solution and which solution to use for which type of odor or contamination. For example, we know that most detergents aren't powerful enough to lift and remove the urine crystals.
So how do we know what to use and how do we do it? We know that acid dissolves urine crystals. Based on this knowledge, we first make a solution of mild acid and thoroughly flush your carpet. The second step involves "flooding" your carpet with enzymes and live, non-pathogenic bacteria that further eat through any urine residue not removed by the acid.
We're so confident in our two-step urine and odor remediation process, that at the end, we'll give you our Monster Clean carpet cleaning Isle of Wight guarantee.
Our Menu Of HEALTHY HOME Cleaning Services
Residential Carpet Cleaning
Commercial Carpet Cleaning
Hardwood Floor Restoration