Top-Notch
Tile & Grout Cleaning Services
in Virginia Beach, Chesapeake, VA, Norfolk, VA, Suffolk, VA and Area
Virginia Beach Tile & Grout Cleaning
Tile is a beautiful addition to any home, but keeping it clean can be a challenge. Monster Clean can take on the hard work of tile and grout cleaning Virginia Beach. With our state of the art equipment and highly trained technicians, we will provide a deep tile and grout cleaning for your home. This may include but is not limited to showers, kitchen backslashes, and flooring. While such tile surfaces will tolerate wear, all tile requires routine cleaning and sealing in order to protect your investment.

Tile & Grout Cleaning Virginia Beach
Certified by the IICRC, Monster Clean seeks to excel above industry standard, providing quality tile and grout cleaning Virginia Beach services for homeowners and businesses. Our trucks have the best equipment to restore your tile and grout surfaces, along with a team of trained professionals who specialize in tile cleaning and sealing. Once your tiles surfaces have been decontaminated, we begin our drying and protection phase.
Our sealing process keeps your tile clean longer, and is resilient to mold, bacteria, and other harmful substances that will stain your tile. Most companies leave your tile unprotected and susceptible to staining and deterioration.
At Monster clean we seek to educate you on how to maintain your tile surfaces, and want to leave your rooms protected with a tile and grout sealant that reduces the required amount of cleaning.
Our Tile & Grout Cleaning Process
The 7-Step Monster Clean Experience:
1. Pre-Inspection: Your Monster Clean expert will walk with you throughout your home to inspect the tile surfaces.
2. Pre-Clean: Tile flooring is vacuumed to remove loose dirt.
3. Furniture Moving: This will include moving sofas, tables, chairs, and other small items that are situated on any tile surfaces that are to be cleaned.
4. Monster Extraction: Hot water and detergent are applied to the tile and grout while the powerful suction hose simultaneously extracts the dirt and water, all while keeping the surfaces that are in close proximity dry.
5. Monster Sealant Application: On ceramic tile, we apply a top of the line sealer to the grout lines. The sealant seeps deep into the grout and protects the surface.
6. Post-Cleaning Inspection: Our Monster Clean technician will walk with you throughout your home to observe the cleaning results and to ensure that you are delighted with the work.
7. Our technician will answer any questions you may have about routine maintenance and offer a big Monster Clean Thank You.
Our Tile & Grout Cleaning Equipment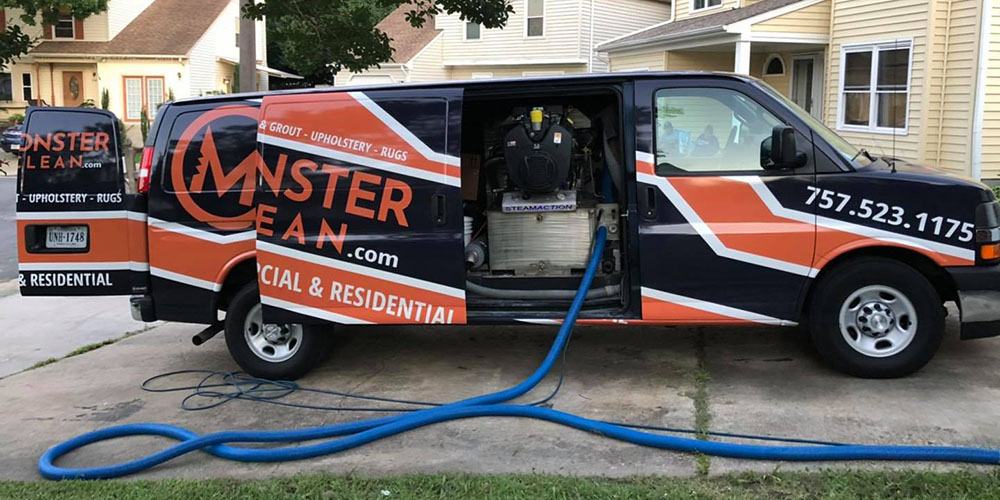 Monster Clean uses the manufacturer recommended hot water extraction process through a truck mounted cleaning system for all tile and grout cleaning Virginia Beach. Our top of the line contained washing system combines heat, water pressure, and detergent to loosen and extract years of soil, grease, and other contaminants from the pores of the tile and grout.
There is no over spray to worry about, as the water is confined within a floor disc connected to a powerful vacuum hose, which draws the water and dirt out to our large truck containment tank. To protect the surfaces, we follow up with the application of a high quality sealant. Monster Clean will leave you with a healthier and more beautifully clean home.
After your tile and grout has been taken through our deep cleaning process, we begin to apply our signature sealant. The signature sealant protects your tile from surface wear, and keeps your tile looking clean longer. The sealant we use is specifically formulated to combat mold, bacteria, and other contaminates that leave stains and discoloration on your tile and grout over time. With the Monster Clean sealant, you will be able to maintain your tile and grout easier, saving you time and money. We also offer expert services for carpet cleaning Norfolk VA, carpet cleaning Chesapeake Va, and all of Hampton Roads.
Our RISK-FREE Guarantees For You
Merely sweeping and mopping your floors is insufficient for achieving a thorough clean. To truly restore the cleanliness of your floors, a deeper extraction of dirt is necessary. Without this extraction, you are merely addressing the surface layer while neglecting the crevices and cracks within your floor's surface. Consequently, if you limit your cleaning routine to sweeping and mopping alone, there is a significant likelihood that dirt, debris, and allergens are still residing within the hidden recesses of your floors.
For more than 17 years, Monster Clean has proudly provided Hampton Roads with exceptional service, an outstanding team of professionals, and unbeatable prices.
We'll save you both TIME and MONEY because our process, equipment and procedures will keep your carpets cleaner longer!
Your 100% Satisfaction is our GUARANTEE!
Peace of mind - No harmful chemicals! Safe for your kids and pets
Fewer allergies and illness - Less sick days for you and your family