#1
Carpet Cleaning
in Moyock, NC
Residential Carpet Cleaning Moyock, NC
Monster Clean provides our customers with the highest quality carpet cleaning services in the
Moyock, NC
area. We have the most competitive pricing and the most high-tech carpet cleaning equipment around. At Monster Clean, we want to give you the best service, while still saving your money and time. No matter how dirty your carpet might be, our certified, expert
carpet cleaning Moyock, NC
team will bring it back to its like-new cleanliness. We tackle everything from stains to pet urine and odor. Our goal is to provide your family with a clean living space.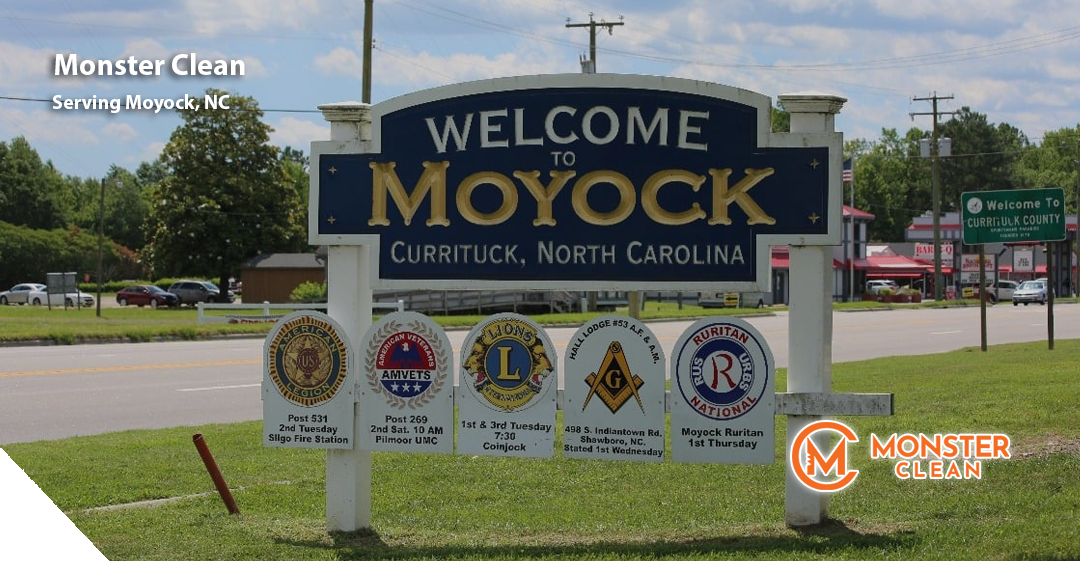 Moyock, NC Carpet Cleaning
We want to empower our customers with knowledge. Monster Clean is an IICRC certified company, meaning we're up to date on the most current and effective carpet cleaning methods in the industry. We make sure to choose and utilize the best cleaning treatment for your specific carpet.
The current industry standard for carpet cleaning recommended by most carpet manufacturers is called "truck-mounted hot water extraction". This method of carpet cleaning is fast, powerful, and efficient. More spots and stains are removed as a result of the high heat used. There is also extra vacuum suction power, which, when used after the high heat treatment, greatly shortens the drying time.
Monster Clean has the most effective carpet cleaning in Moyock, NC because our truck mounted systems are the biggest and best in the state of North Carolina. Our system is efficient and we have proven cleaning results every time.
Our Carpet Cleaning Process
The Nine-Step Monster Clean Experience
1. Pre-Inspection: Before we do any cleaning, your Monster Clean technician will look at all the carpet in your house. We'll evaluate any stains and see if they look removable or permanent. Then we'll let you know what kind of realistic cleaning results you can expect
2. Pre-Vacuum: This is one of the most important steps in the cleaning process. (customer is expected to vacuum beforehand)
3. Monster Pre-Conditioning/Pre-Spot: Areas seeing lots of traffic and areas needing more cleaning are then pre-treated with a spot remover spray. This spray is specific to your carpet and the types of spots/soil it will be removing. We carefully prepare it with the proper concentration of detergents, and in the proper order. This custom-made solution increases the cleaning power and better improves removal chances.
4. Pre-Grooming: Our next step is to use a state of the art carpet groomer. The groomer works by agitating the detergents, which helps them penetrate through the grime in all levels of the carpet.
5. Monster Soil Extraction and Rinse/Neutralizer: Next, we use hot water and a strong extraction system to rinse the carpet. This not only rinses out the grime and detergents, but also removes any residue that could leave your carpet feeling sticky. Then we apply a neutralizer to the carpet to further ensure no stickiness is left. Your carpet will feel clean and soft.
6. Monster Post-Spot/Groom: If there are still stubborn dirt spots, we'll treat them with our tailor-made spot solutions. Sometimes the cleaning process can cause distortion of the carpet fibers. If that happens, we give your carpet a post carpet cleaning grooming.
7. Monster Dry: It's important that your carpet is quickly and thoroughly dried. As soon as we've finished cleaning your carpet, we put in a high velocity air circulation system.
8. Post-Cleaning Inspection: We want you to love how clean your carpet is. After we've finished cleaning and drying your carpets, your Monster Clean technician will show you the results.
9. We want to offer you a big, Monster Clean thank you. Your technician will also answer all your questions about maintenance and routine carpet cleaning Moyock, NC.
We train all of our Monster Clean technicians in the most advanced techniques for spot and stain removal. It's essential to first understand what causes the various imperfections.
A stain is any kind of discoloration of your carpet. It can be caused by the dye site in the carpet's yarn being penetrated by something that discolored it. Any kind of chemical reaction can also cause a stain.
A spot is a type of discoloration that has been added to your carpet. It doesn't necessarily alter the dye site, but it will add a color (or two). Spot correction requires a process known as color removal.
The third type of stain is known as a color loss stain. This can be caused by things like bleach or fading. We can fix this by either dying the affected spot, or by replacing the problematic spot with a carpet patch.
Monster Clean offers No spot or stain is too much for Monster Clean, and we can even remove the toughest urine stains.
Every Monster Clean carpet cleaning service includes 30 minutes of advanced stain removal. We don't stop the cleaning process until all the stains, spots, and discolorations are removed from your carpet.
One of the biggest promises Monster Clean makes our customers is that we'll use only the best cleaning products on the market. Teflon is known for being a great protectant for carpet and upholstery. Monster Clean uses Dupont Teflon Advanced Carpet Protectant because we know how much longer it will make your carpet and upholstered furniture last. Our customers are guaranteed to be happy because Dupont Teflon is odor free, long lasting, and safe for humans and animals.
Teflon is known for its versatility. It can protect a wide variety of materials ranging from polyester, nylon, cotton, and fiber blends. The Teflon solution works by forming a soil and liquid repelling shield around the fibers of fabric. This protection works against food, drink, and pet soils. To keep your fabric and upholstery looking its best, we suggest an application of Teflon after every Monster Clean upholstery cleaning and carpet cleaning.
Monster Clean has its IICRC Clean Trust certification. The IICRC, or Institute of Inspection Cleaning and Restoration Certification, ensures that the best and most up to date cleaning products and techniques are used.
We understand how important your oriental rugs are to you, so we take pride in using only the approved products and techniques to clean them. Monster Clean does In-Plant immersion cleaning for your oriental rugs. Our employees are IICRC Certified Textile Cleaners, so you can feel confident in the quality cleaning work being done.
Monster Clean Oriental Rug Process:
1. Pre-Inspection: The first step of Monster Clean's oriental rug cleaning process is to do a visual inspection. We take pictures of your rug and make note of any areas with permanent stains. We'll go over with you any questions you might have about the cleaning process, and we'll give you a realistic evaluation of the results you can expect.
2. Monster Dry Soil Removal: Removing dry soil is incredibly important in cleaning your oriental rug. Monster Clean has a custom rug dusting machine that uses a high tech combination of harmonic vibrations and deep massage to gently lift dirt and dry soil from your oriental rug. We do this process multiple times to both the front and back of the oriental rug, and between each dusting, we vacuum, further removing the loose dirt.
3. Dye Stability Testing: Because these rugs are hand-knotted or hand-woven, the dye isn't always completely colorfast. This can cause the dyes to "migrate" or "bleed", so before starting the cleaning process, we hand test each color and then select the appropriate method of cleaning.
4. Process Selection: Due to the delicate construction of many oriental rugs, "dry cleaning" or "low moisture" methods of cleaning are safer. These methods would be used in place of the more common full immersion method. We want to guarantee the strength, integrity, and color of your oriental rug, while making sure we provide you with the best cleaning results.
5. Monster Full Immersion carpet cleaning Moyock, NC: If after testing the colorfastness of your oriental rug and we determine the dye stability is good, we can go ahead with the full immersion cleaning method.
6. Speed Drying: There are two methods for drying rugs. The rug is either laid flat on our blocking and drying racks, or we lift it into our drying tower. Monster Clean will choose the method best suited to your particular rug.
7. Rug Finishing: This is the final, most detail oriented step in the rug cleaning process. Here, we groom the fringe and pile, and if necessary, we correct any fringe color.
Carpet Pet Odor Remediation
Pet odor and urine can seem like an unsolvable cleaning problem. Customers often wonder how they're going to tackle something that's penetrated so far into the carpet and sub-floor and has such a terrible odor.
This is where Monster Clean can help. We're remediation experts. First off, we can usually accomplish the job without having to lift or remove the carpet. Second, we pride ourselves in being able to get rid of pet urine odors that most other companies can't touch. We can do this because we understand the science behind each cleaning solution, and more importantly, we know which solutions to use and when.
The most important thing to know here is that pet urine crystals and bacterial growth don't respond well to just water and detergent. They do, however, dissolve easily when attacked by an acidic solution. Your Monster Clean technicians will liberally flush the affected areas of your carpet and pad.
After the acid flush, we "flood" the affected area with a solution of enzymes and live, non-pathogenic bacteria that love to further eat away at the urine crystals. The final phase of urine crystal extraction is done in two steps. The first step involves emulsifying and removing (or lifting) any urine crystals that weren't removed by the acid solution rinse. The second step involves saturating the affected areas with a solution that will completely eat away any remaining residue.
We then clean your carpet using the usual carpet cleaning Moyock, NC techniques. But we guarantee this will ONLY happen once our flooding and extraction has successfully removed all urine crystals, odor, and residue from your carpet.
Our Menu Of HEALTHY HOME Cleaning Services
Residential Carpet Cleaning
Commercial Carpet Cleaning
Hardwood Floor Restoration