Top
Commercial Cleaning Services
in Virginia Beach, Chesapeake, VA, Norfolk, VA, Suffolk, VA and Area
Virginia Beach Commercial Cleaning
Monster Clean is proud to offer top-rated commercial janitorial cleaning services in Hampton Roads. It is our priority to deliver high-quality cleaning services to our clients. We provide expert commercial cleaning Virginia Beach services using 100% biodegradable, non-flammable, non-fuming, non-toxic, non-abrasive, non-corrosive, non-hazardous and non-polluting Green Seal Certified solutions, which are safe for the environment and your health. Our uniformed employees are highly knowledgeable, dependable and well-trained in cleaning techniques. They work hard and understand the value of your satisfaction.

Monster Clean janitorial services include but are not limited to:
Vacuuming, sweeping and mopping of hard floor surfaces
Dusting and cleaning horizontal surfaces (cleared surfaces of desks, chairs, tables, filing cabinets, furniture)
Disinfecting telephones, door handles, light switches, etc.
Emptying and damp wiping ashtrays and waste receptacles
Cleaning door jambs, push plates, glass partitions, and counters
Disinfecting and polishing water fountains
Thoroughly disinfecting partitions, urinals, toilets, sinks and cleaning mirrors in restrooms, as well as refilling soap and paper products
Commercial carpet cleaning Virginia Beach
Removing soil on entrance door frames, handles, glass, and threshold
Reporting any unusual occurrences, malfunctions or damages
Professional Janitorial Services
We will be happy to customize a cleaning package to meet your unique janitorial needs (general janitorial, window cleaning, blind cleaning, etc ). Call today and schedule your free estimate for commercial janitorial cleaning. Ask us about our in-depth cubicle cleaning!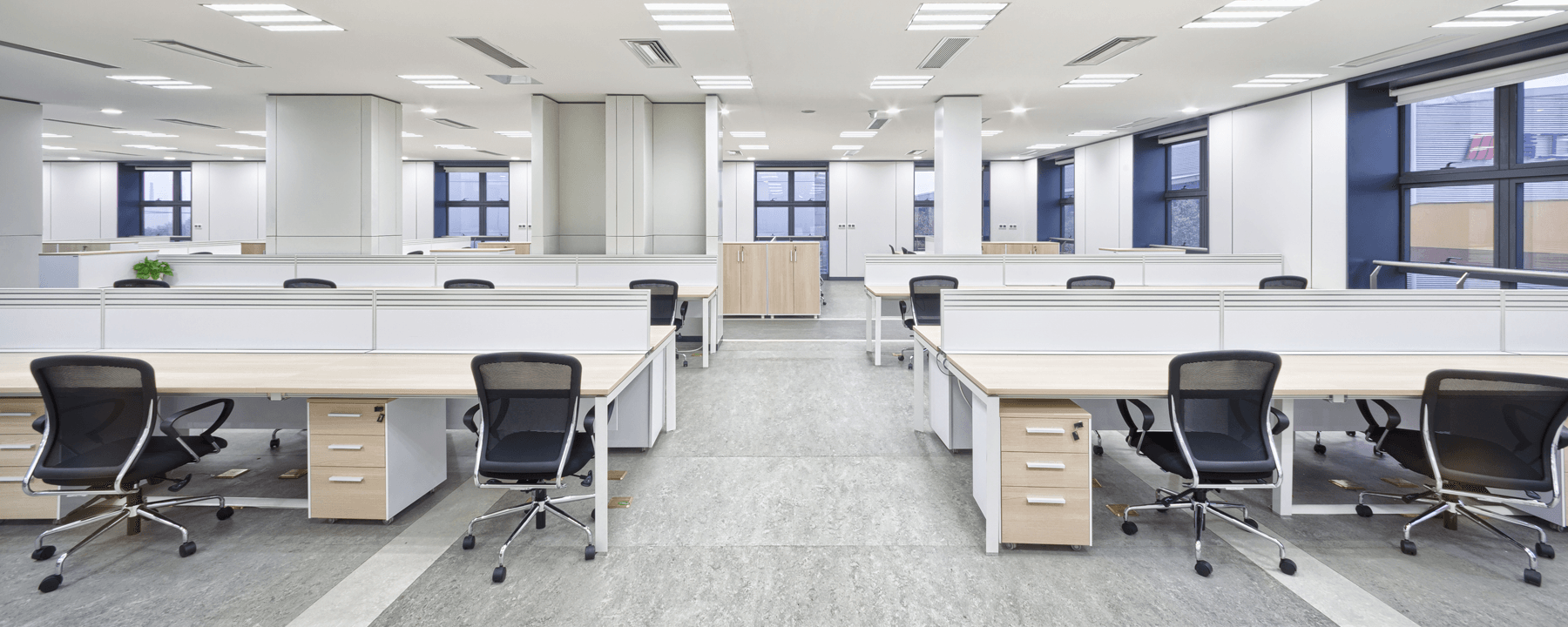 Cubicle And Office Cleaning
Monster Clean offers a professional cubicle cleaning service. Cubicles are generally installed in two manners: Cored walls (adhesive fabrics are glued to a base material) and Stretch walls. Stretch walls are stretched around a frame and usually have no surface behind them. The modern office has moved away from collections of private rooms off of a central corridor to more open floor-plan designs. Office spaces are now created by dividing open areas with hastily erected cubicle or partition walls. These temporary cubicle walls are often metal framed dividers about five feet high usually covered with fabric. The walls effectively segregate office spaces allowing some semblance of privacy between office staffers while still adhering to the open plan design concept. While cubicles are an innovative way to maximize use of expensive office space, cubicle wall designers give little thought to their cleaning and maintenance. The only cleaning most office partitions will ever receive is the occasional wipe down with a damp towel.
Routine Maintenance
Frequent vacuuming to remove dry soil and dust is the most effective way to keep office partitions clean and healthy. Many offices overlook or omit this from their routine cleaning plans because commercial cleaning Virginia Beach professionals lack hose attachments for their vacuums. Janitorial companies also often skip partition cleaning because office workers have attached photos, to-do lists and other obstructions to the fabric walls. It is not uncommon for office partition cleaning to be postponed or deferred so long that a complete restorative cleaning becomes necessary.
Restorative Cleaning
Prior to cleaning, the partitions are often pre-sprayed or pre-wiped with a chemical agent called a dry encapsulating polymer. After proper dwell time, a brush may be used to gently agitate the chemical into the fibers and loosen and dissolve soils. Special attention is given to high-touch areas such as corners, edges, and tops. We offer expert solutions for carpet cleaning Virginia Beach, carpet cleaning Norfolk VA, carpet cleaning Chesapeake VA, and carpet cleaning Hampton Roads. Our office partition cleaning tool nozzles have enclosed spray jets. These help to prevent over-spray, maximize rinse, and shorten drying times. Partitions can take two to 24 hours to fully dry. Fans may be placed to speed drying if a more rapid return to service is required.
Our RISK-FREE Guarantees For You
Merely sweeping and mopping your floors is insufficient for achieving a thorough clean. To truly restore the cleanliness of your floors, a deeper extraction of dirt is necessary. Without this extraction, you are merely addressing the surface layer while neglecting the crevices and cracks within your floor's surface. Consequently, if you limit your cleaning routine to sweeping and mopping alone, there is a significant likelihood that dirt, debris, and allergens are still residing within the hidden recesses of your floors.
For more than 17 years, Monster Clean has proudly provided Hampton Roads with exceptional service, an outstanding team of professionals, and unbeatable prices.
We'll save you both TIME and MONEY because our process, equipment and procedures will keep your carpets cleaner longer!
Your 100% Satisfaction is our GUARANTEE!
Peace of mind - No harmful chemicals! Safe for your kids and pets
Fewer allergies and illness - Less sick days for you and your family