Top-Notched
Carpet Cleaning
in Suffolk, VA
Residential Carpet Cleaning Suffolk
Monster Clean is the best out there. We have unbeatable prices, top of the line equipment, and the best employees in the industry who work together to bring our customers the best quality and service in the Suffolk area. It doesn't matter how your carpet looks. Our certified carpet cleaning
Suffolk
experts will work tirelessly to bring your carpet back to its brand new condition. No job is too big or gross for us, whether it's stains or pet odors or general imperfections. We take pride in providing a clean, odor-free, and attractive environment for you and your family.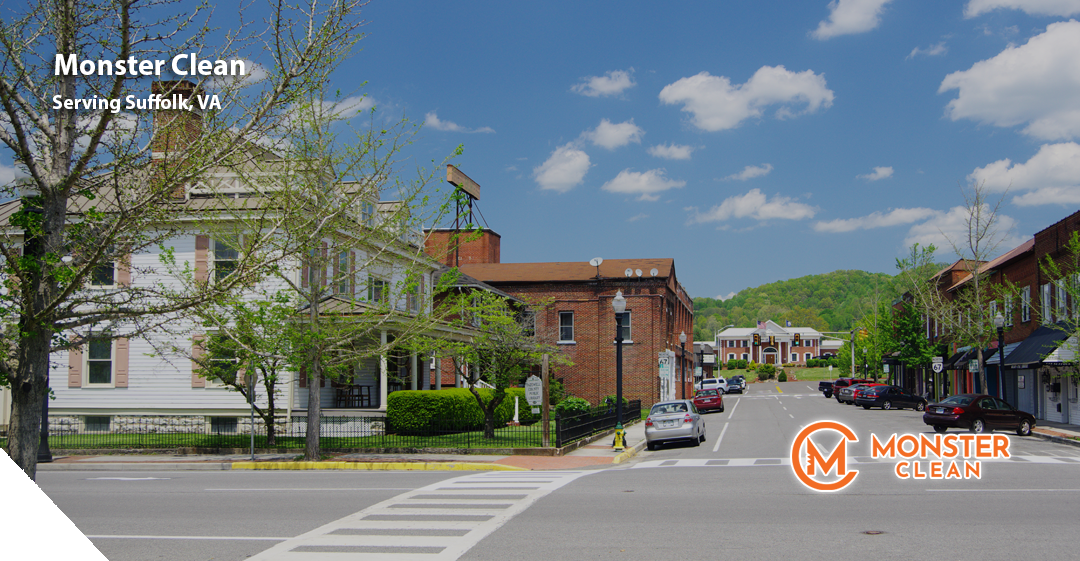 Monster Clean is certified by the IICRC. We've undergone intensive training and education in order to meet the exacting industry standards required of companies to clean various textile floor surfaces and coverings. We carefully review your exact cleaning needs, and then based on that, we select the best cleaning method and treatment for your specific job.
At Monster Clean, we stay up-to-date on all industry standards, and utilize them at every job. The "truck-mounted hot water extraction" method is the current cleaning method recommended by most carpet manufacturers. Truck-mounted extraction cleaning is superior to other methods for a few reasons: it's faster than using portable equipment; the high heat removes more spots and stains; and drying time is greatly reduced because of the added vacuum suction power.
Because our goal is to do our job as effectively and efficiently as possible, we require the truck-mounted systems at carpet cleaning Suffolk.
Monster Clean boasts the biggest and most powerful truck-mounted carpet cleaning equipment in the state of Virginia. Our system is proven and lets us confidently guarantee our incredible cleaning results.
Our Carpet Cleaning Process
The Nine-Step Monster Clean Experience
1. Pre-Inspection: Monster Clean will do a walkthrough of your home to inspect your carpet. We'll take note of any permanent stains and will then provide you with a realistic evaluation of the results you can expect.
2. Pre-Vacuum: This is one of the most important steps in the cleaning process. (customer is expected to vacuum beforehand)
3. Monster Pre-Conditioning/Pre-Spot: High traffic areas and general spots are identified and a pre-spray treatment is then applied. We carefully select the proper detergent and its correct concentration in order to get the most thorough clean.
4. Pre-Grooming: Our state of the art carpet groomer with an agitation feature that thoroughly distributes detergent and further breaks up dirt and grime that's ground into the carpet.
5. Monster Soil Extraction and Rinse/Neutralizer: We use hot water and a strong extraction system to rinse your carpet and flush out any remaining dirt and detergent. It also gets rid of any excess water and sticky residue. Then we apply a neutralizer, further removing any sticky residue. The result is a clean, soft carpet.
6. Monster Post-Spot/Groom: Sometimes tough spots remain so we use our professional spotting solutions to get rid of them. Carpet fibers can appear distorted after a deep cleaning, so to counteract this we can do a post carpet cleaning groom.
7. Monster Dry: It's essential that your carpet is quickly and completely dried. Immediately after cleaning, we put up a high velocity air circulation system to ensure nothing stays damp.
8. Post-Cleaning Inspection: We want you to be delighted with your clean carpets, so after we finish the job, your Monster Clean Technicians will walk you through your home to show you the results.
9. We're here to help, and our technician will answer all your questions about maintenance and routine carpet cleaning Suffolk. We'll give you a Big Monster Clean Thank You.
A stain is caused by a chemical reaction or from a discoloring material penetrating the yarn's dye site.
A spot is a discoloration that essentially adds color to your carpet, and that to be corrected, will require a color removal process.
A color loss stain, from bleach or fading, can sometimes be remedied by a spot dye process; occasionally the carpet affected will need to be replaced with a fresh carpet patch.
In addition to remedying stains, spots, and color loss, we can also remove urine spots.
All of our Monster Clean technicians are highly trained in the latest and most advanced stain and spot removal techniques. As part of your carpet cleaning service, we guarantee you 30 minutes of advanced stain treatment. Monster Clean will use every possible technique and tool in our arsenal to get rid of and correct any unsightly stains and discolorations in your carpet.
Monster Clean Carpet Cleaning takes great pride in using only the best cleaning products on the market. The best one out there is Teflon Advanced Carpet Protectant by DuPont. This is the best because Teflon affords long-term protection to your carpet and upholstery. Teflon is very versatile because it's suitable for many different types of fabric, such as cotton, polyester, nylon, and other fiber blends. DuPont Teflon is safe for people and pets, has no odor, and is long lasting.
Monster Clean uses Teflon cleaning surfaces for carpets, sofas, chairs, ottomans, drapery, mattresses, and many other types of upholstery and furniture. We love it because it helps protect your carpet and furniture against stain-causing drink and food spills, pet hair, dirt, and soil, and also helps keep your upholstery free of odor and bacteria.
How is this possible, you might be thinking. Teflon works to repel liquids and soil by forming an invisible shield around each fabric fiber. This makes your fabrics, upholstery, and carpets easier to care for. Because we want you to have the best results, we recommend a Teflon application after every carpet and upholstery cleaning.
Monster Clean is proud to offer immersion cleaning for your oriental rugs. We do this at our facility to ensure that your rug is properly and immaculately cleaned. The cleaning solutions and techniques we use are approved specifically for use on these fine rugs.
Monster Clean is certified by the IICRC (Institute of Inspection Cleaning and Restoration Certification) and is a Clean Trust firm. We employ IICRC Certified Textile Cleaners as well.
(Monster Clean also offers expert carpet cleaning Norfolk, Chesapeake, and all of Hampton Roads.) Do we need this?
Monster Clean Oriental Rug Process:
1. Pre-Inspection: First, we carefully inspect your Oriental rug. As part of that inspection, we take pictures so that there's a photographic record of the cleaning process from start to finish. Your Monster Clean expert will then talk with you about your rug. At this point, we'll take note of any permanent stains and will also give you an evaluation of the expected cleaning results. You can feel confident knowing that we'll answer any questions you might have about the process.
2. Monster Dry Soil Removal: Our first step is to use our custom rug duster to remove any dry soil. This machine uses a combination of harmonic vibrations and deep massage to gently dislodge particles and dirt from deep within your rug. We do this to both the front and back of the rug. Between each dusting, we carefully vacuum the rug; this ensures that none of the dislodged dirt gets ground back into the rug, and as such, is possibly the most important step of all in the cleaning of your Oriental rug.
3. Dye Stability Testing: Hand-knotted and hand-woven rugs are among the most beautiful out there. They're all uniquely patterned and dyed. Because of this, the dye isn't as stable as in mass-produced or man-made textiles, and sometimes the dye can bleed across to other sections of the rug. We test each different color in your rug prior to cleaning to ensure its colorfastness.
4. Process Selection: Oriental rugs are unique and beautiful. Many modern and man-made rugs, and some Oriental ones, can be cleaned using our full immersion technique. However, the dyes used in a lot of Oriental rugs are better suited for "low moisture" and/or "dry cleaning" techniques. After carefully inspecting your rug, we will then choose the cleaning method best suited to it. Our goal is to preserve the strength, shape, and color of your fine rug.
5. Monster Full Immersion carpet cleaning Suffolk: If we determine that the dyes in your Oriental rug are stable, we will use our full immersion style of cleaning as opposed to a low moisture or dry cleaning technique.
6. Speed Drying: At Monster Clean, we use two methods of drying rugs. One method is to lift the rug into our drying tower and allowing it to dry while suspended. The other method is to lie the rug flat on our blocking and drying racks. We will select the method best suited to your particular rug.
7. Rug Finishing: This is the final step. Finishing a rug means that the pile and fringe are groomed, fringe color corrections are made if needed, and any other fine details are attended to.
Carpet Pet Odor Remediation
Pet urine odor is a big problem, requiring intense remediation. Pet odor doesn't just stop at the carpet level; it often penetrates deeply and contaminates the carpet padding and the sub-floor. Although these surfaces are contaminated, the great thing about remediation cleaning is that it can be accomplished without having to lift the carpet.
Each Monster Clean team member is a remediation expert. We're the people you call when other cleaning professionals haven't been able to get rid of the pet odors.
The first step in successful pet odor remediation is to understand the problem. Then you need to look at the cleaning solutions and know their uses and limitations. Only then can you select the most effective and permanent remediation solution.
The problem with urine crystals, or salts, is that they don't stay on the carpet's surface. The urine soaks into the carpet and penetrates down to the sub-floor where it forms the crystals or salts. Water and detergent alone aren't able to re-liquify down these crystals. However, a solution that makes a mildly acidic condition will quickly and easily dissolve the urine crystals.
Monster Clean's pet odor remediation is so successful because we use science-based solutions. Since we know that acid dissolves urine salts and halts bacterial growth, our first step of remediation is to use this solution to flush out your carpet and pad.
After your carpet, pad, and sub-floor have been thoroughly flushed with the acid solution, we introduce live, non-pathogenic bacteria and enzymes with a process that's highly controlled and localized. This is called "flooding".
The extraction of urine crystals occurs in two stages. The first stage involves the emulsification and removal of any remaining urine that wasn't liquified by the acid rinse. The second stage involves saturating the area with a solution that will effectively eat away any remaining urine and urine residue.
After we've successfully completed the two stage urine removal process of flooding and extraction, we'll then clean your carpet with our standard methods for carpet cleaning Suffolk.
Our Menu Of HEALTHY HOME Cleaning Services
Residential Carpet Cleaning
Commercial Carpet Cleaning
Hardwood Floor Restoration