Best
Commercial Carpet Cleaning
in Chesapeake, VA
Chesapeake Commercial Carpet Cleaner
Monster Clean's team of highly skilled technicians is capable of handling any job, no matter the size, when it comes to commercial carpet cleaning in Chesapeake. Rest assured, the work will be executed with precision and completed on time. We cater to a diverse range of business types, such as offices, medical facilities, retail stores, restaurants, hotels, theaters, churches, and more, providing exceptional commercial carpet cleaning services. Our certified carpet cleaning technicians will provide you with solutions for your carpet and hard floor surfaces.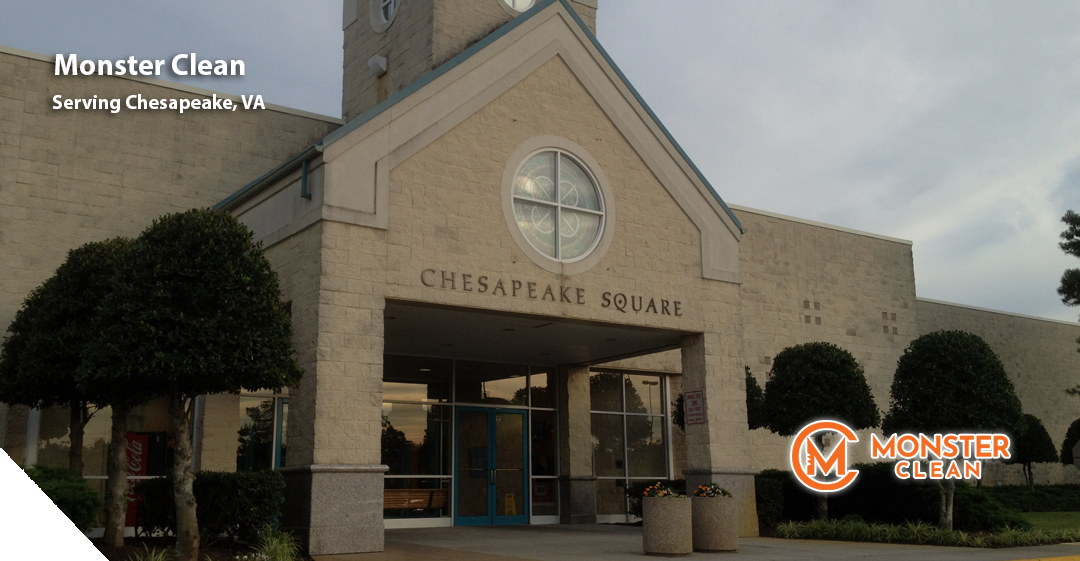 Local Commercial Carpet Cleaning Experts
Monster Clean is certified by the IICRC in commercial carpet cleaning in Chesapeake and surrounding areas, and is dedicated to educating our customers on various cleaning techniques; taking pride in selecting the best treatment available for their specific cleaning need. Being a local company means that we have a better dedication to quality and service, with our clients being in our backyard.
We've been in business over 18 years cleaning carpets for businesses all across Hampton Roads. No matter how bad the carpets may be, we can present you with different options based on your budget, timeline, and goals with the commercial space.
Our technicians are equipped with state-of-the-art equipment and employ industry-best practices to ensure thorough cleaning, removal of tough stains, and elimination of odors.
Our Commercial Carpet Cleaning Process
The 10-Step Monster Clean Experience
1. Pre-Inspection: We'll accompany you to assess the condition of your carpets, identifying potential permanent stains and providing an evaluation of expected results.
2. Pre-Vacuum: Thoroughly removing dry soil through extensive vacuuming, a crucial initial step for optimal cleaning.
3. Pre-Conditioning/Pre-Spot: Applying a specialized pre-spray treatment to high-traffic areas and general spots, using the right detergents in precise concentrations to enhance cleaning effectiveness. We also address trouble spots with a targeted solution.
4. Pre-Grooming: Employing state-of-the-art carpet groomers to break up soil further, ensuring thorough agitation and loosening of grime.
5. Monster Soil Extraction and Rinse/Neutralizer: Employing hot water and a powerful extraction system, we deeply rinse the carpet, eliminating all soil and detergents. Our neutralizer prevents sticky residue, leaving the carpet both durable and pleasantly soft.
6. Post-Spot/Groom: Any remaining spots receive specialized treatment with professional spotting solutions, while a post-cleaning grooming ensures no fiber distortion.
7. Monster Dry: We promptly deploy a high-velocity air circulation system to expedite drying, ensuring fast and thorough results.
8. Post-Cleaning Inspection: Our technician accompanies you to inspect the cleaning outcome, ensuring your satisfaction with the work.
9. Maintenance Advice: Our knowledgeable technician addresses any inquiries you may have about routine carpet maintenance, offering valuable guidance.
10. A Big Monster Clean Thank You: Concluding our service, we express our gratitude and appreciation for choosing Monster Clean.
Commercial Cleaning Services
Monster Clean's team of experts will help extend the life of your carpets, help maintain a healthy work environment, and aid in projecting the image of competence that your clients expect. In addition to commercial carpet cleaning in Chesapeake, we can also aid in tile, grout, laminate, and wood surfaces.
If you are a business located in Chesapeake or surrounding areas and need a professional team to quickly and effectively restore the life of your commercial floor surfaces, trust Monster Clean for exceptional commercial carpet cleaning expertise in.
Our Menu Of HEALTHY HOME Cleaning Services
Residential Carpet Cleaning
Commercial Carpet Cleaning
Hardwood Floor Restoration