Elegant
Restaurant Cleaning Services
in Virginia Beach, Chesapeake, VA, Norfolk, VA, Suffolk, VA and Area
Monster Clean's Restaurant Cleaning Division
At Monster Clean we combine the best equipment, the best prices, and the greatest employees to provide an elite level of service and quality to our customers. Whether it is a small restaurant cleaning job like washing grease traps, or a full out restaurant cleaning overhaul, our experts are prepared to satisfy all of your restaurant cleaning and restorative needs.
Virginia Beach Restaurant Cleaning
Monster Clean is certified by the IICRC and is dedicated to providing the best level of service to all of our commercial restaurant clients. Our employees are trained to handle all aspects of your restaurant cleaning. We don't just touch the surface, we take each one of our restaurants through our monster clean deep cleaning process.
It's not easy to keep up on cleaning maintenance and restorative work when a restaurant is up and running. At monster Clean, we seek to provide affordable and convenient cleaning services, allowing you to continue to run your business and serve your customers. Proper cleaning maintenance is critical to a happy staff, and happy customers. Keeping a restaurant in top shape reduces the risk of health inspection related issues, and potential fire hazards.
We seek to provide an environment that is comfortable and clean for the employees and customers.
Monster Clean technicians are highly trained in advanced restaurant cleaning. We can make your restaurant look like new, at a fraction of the cost of replacing a restaurant space. The benefits of keeping up on cleaning maintenance for a restaurant outweighs the cost for servicing.
Each one of our restaurants that we clean have reported increased customer satisfaction, and a more productive work environment. Every successful restaurant knows the importance and influence the overall environment has on the success of the business. Let Monster Clean create a new, clean environment for your employees and customers.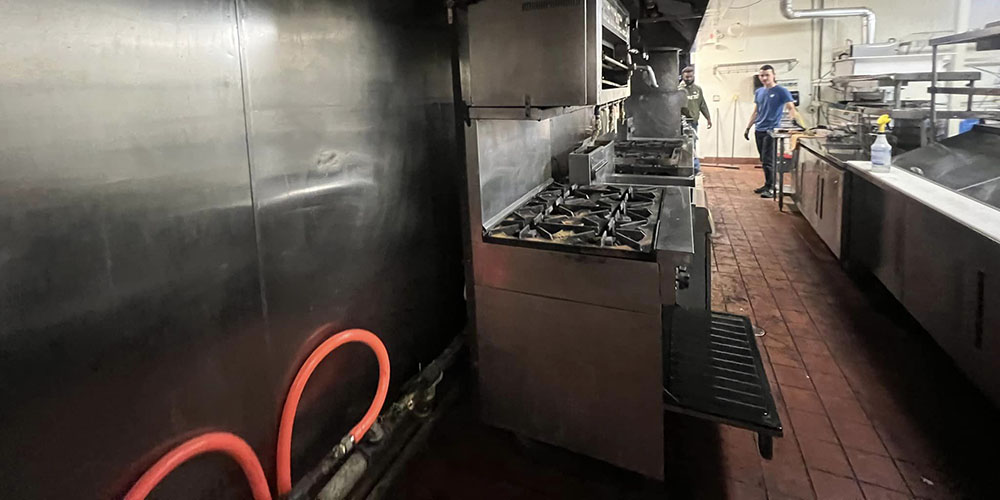 No matter the job, our team is prepared to take care of all of your restaurant cleaning needs, and provide you with the environment you want within your restaurant. Here are some of the general services we offer at monster clean:
General Cleaning
Maintenance for resilient and non-resilient flooring
Stripping, waxing, and buffing floors
Interior and exterior window cleaning
Lavatory and bathroom cleaning
Recycling services
Absorption and elimination of mold and bacteria build up
Special event clean up
Tile and grout cleaning and sealing
Grease trap cleaning and treatment
Our RISK-FREE Guarantees For You
Merely sweeping and mopping your floors is insufficient for achieving a thorough clean. To truly restore the cleanliness of your floors, a deeper extraction of dirt is necessary. Without this extraction, you are merely addressing the surface layer while neglecting the crevices and cracks within your floor's surface. Consequently, if you limit your cleaning routine to sweeping and mopping alone, there is a significant likelihood that dirt, debris, and allergens are still residing within the hidden recesses of your floors.
For more than 17 years, Monster Clean has proudly provided Hampton Roads with exceptional service, an outstanding team of professionals, and unbeatable prices.
We'll save you both TIME and MONEY because our process, equipment and procedures will keep your carpets cleaner longer!
Your 100% Satisfaction is our GUARANTEE!
Peace of mind - No harmful chemicals! Safe for your kids and pets
Fewer allergies and illness - Less sick days for you and your family